From the Greek Streets – Irregular updates and articles on the situation in Greece, in English
Exploring Revolt in Greece, by Ross Domoney
Thursday, December 22, 2011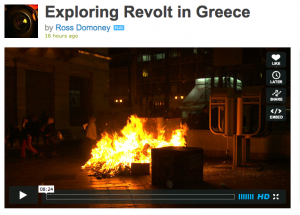 Exploring Revolt in Greece from Ross Domoney on Vimeo.
On December 6th 2008 a police shooting of a 16 year old innocent boy in Athens started a two week revolt in cities around Greece. Three years on people march in remembrance of Alexis Grigoropoulos. Greece now is very much in social and economic turmoil. This films looks at the events surrounding December as well as an inside look to the often cases of revolt in a country that is sinking deeply in recession. This film also explores the role that anti authoritarian movements play in Greece.